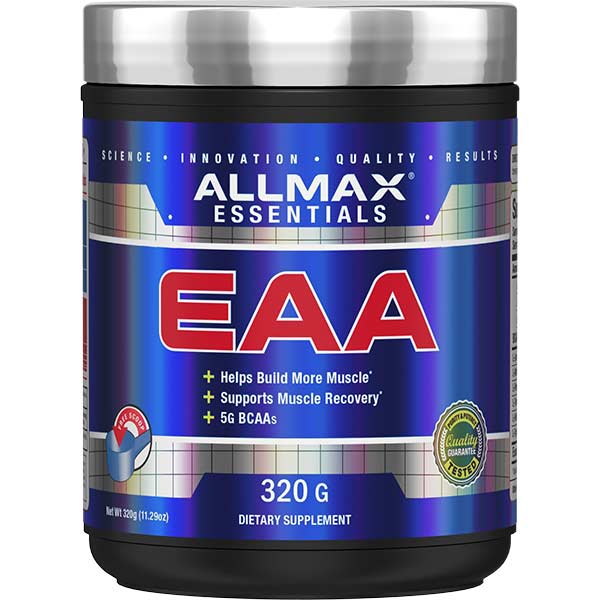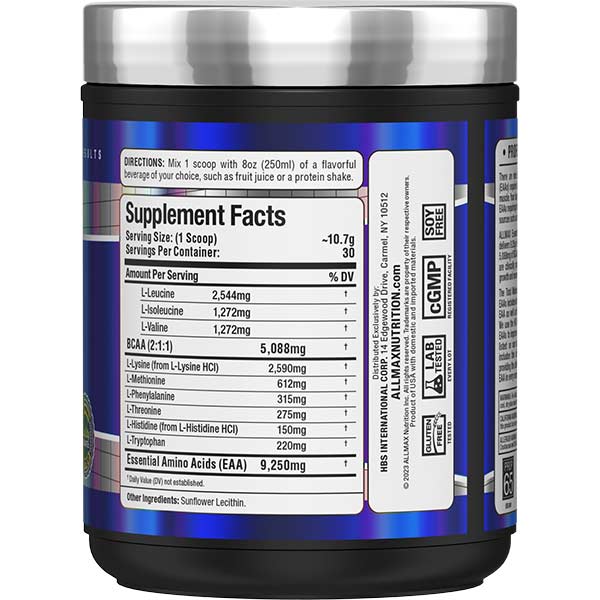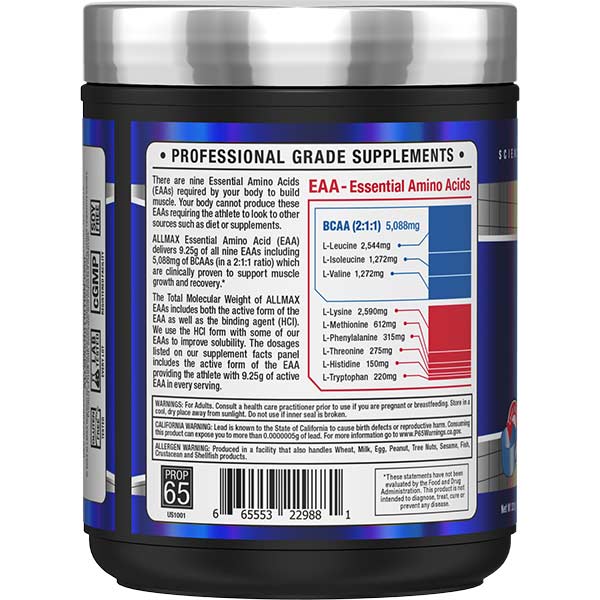 Essential Amino Acids
EAA
In stock
Helps Build More Muscle*
Supports Muscle Recovery*
5g BCAAs
EAA - ESSENTIAL AMINO ACIDS
You asked for it… you got it! Introducing our newest addition to the Allmax Essentials line:  Essential Amino Acids (EAA). Did you know that there are nine EAA required by your body to build muscle? Your body cannot produce all of these EAA on its own requiring you to look to other sources such as diet or supplements.

Allmax EAA deliver 9.25g of all nine EAA including 5,088mg of Branch Chain Amino Acids (BCAA) in a 2:1:1 ratio which are clinically proven to support muscle growth and recovery.*

The Total Molecular Weight of Allmax EAA includes both the active form of the EAA as well as the binding agent (HCl). We use HCl with some of our EAA to improve solubility. The dosages listed on our supplement facts panel includes the active form of the EAA providing you with 9.25g of active EAA in every serving.
*These statements have not been evaluated by the Food and Drug Administration. This product is not intended to diagnose, treat, cure or prevent any disease.
DIRECTIONS: Mix 1 scoop with 8oz (250ml) of a flavorful beverage of your choice, such as fruit juice or a protein shake.
Supplements Facts
Serving Size 1 scoop (10.7 g)
Servings Per Container 30
AMOUNT PER SERVING
% DV
L-Leucine
2,544 mg
†
L-Isoleucine
1,272 mg
†
L-Valine
1,272 mg
†
BCAA (2:1:1)
5,088 mg
†
L-Lysine (from L-Lysine HCl)
2,590 mg
†
L-Methionine
612 mg
†
L-Phenylalanine
315 mg
†
L-Threonine
275 mg
†
L-Histidine (from L-Histidine HCl)
150 mg
†
L-Tryptophan
220 mg
†
Essential Amino Acids (EAA)
9,250 mg
†
† Daily Value not established.
OTHER INGREDIENTS: Lecithin (Sunflower).