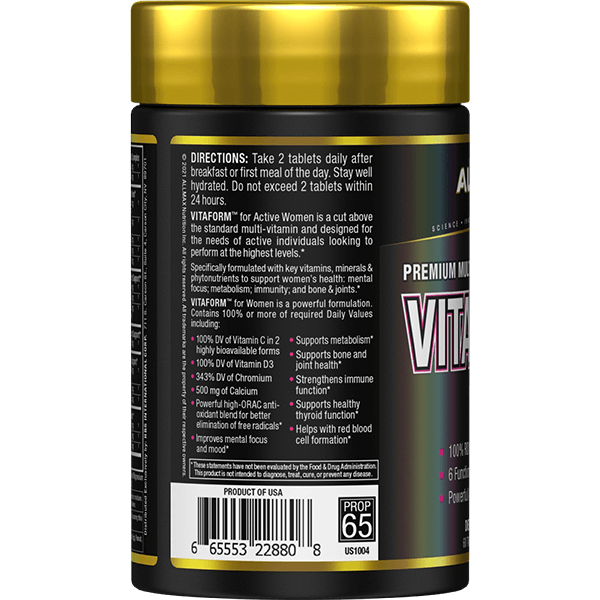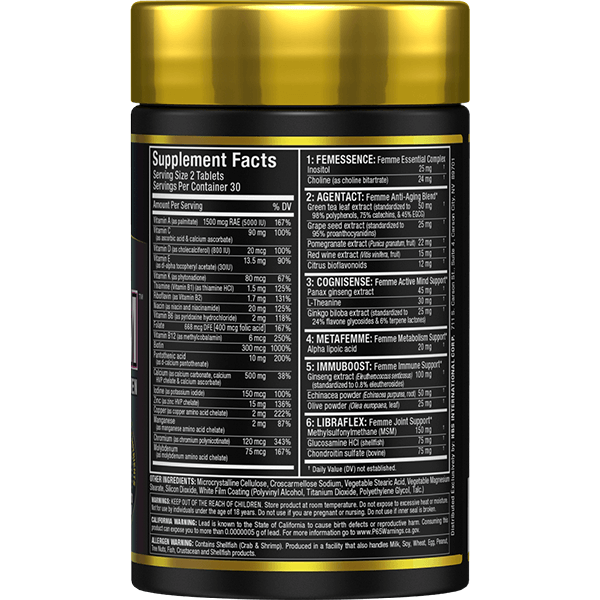 Taking your vitamins has never been easier!
VITAFORM FOR WOMEN
In stock
VITAFORM
100% RDI Essential Nutrients
6 Functional Complexes*
Powerful Anti-Oxidant*
COMPLETE 2 PER DAY WOMEN'S MULTIVITAMIN Introducing new from ALLMAX, VITAFORM Women's Multivitamin, a cut above the standard multivitamin and designed for the needs of active women looking to perform at the highest levels.*
Taking your vitamins has never been easier! Just two tablets a day after breakfast. Specifically formulated with key vitamins, minerals & phyto-nutrients to support women's health: mental focus; metabolism; immunity; and bone & joints.* Contains 100% or more of required Daily Values including:
• 100% DV of Vitamin C in 2 highly bioavailable forms
• 100% DV of Vitamin D3
• 343% DV of Chromium
• 500 mg of Calcium
VITAFORM Women's Multivitamin contains a powerful high-ORAC anti-oxidant blend for better elimination of free radicals and aids in improvements to mental focus and mood. It also helps support the metabolism, a healthy thyroid function, bone health & decreases risk of osteoporosis. Furthermore, it also contains key ingredients to help strengthen the immune function and help with red blood cell formation*
6 Functional Complexes*
FEMESSENCE: Femme Essential Complex
AGENTACT: Femme Anti-Aging Blend*
COGNISENSE: Femme Active Mind Support*
METAFEMME: Femme Metabolism Support*
IMMUBOOST: Femme Immune Support*
LIBRAFLEX: Femme Joint Support*
As a dietary supplement, take 2 tablets daily after breakfast (first meal of the day). Stay well hydrated. Do not exceed 2 tablets within 24 hours.
VITAFORM
Supplements Facts
Serving Size: 2 Tablets
Servings Per Container 30
AMOUNT PER SERVING
% DAILY VALUE
Vitamin A (as Palmitate)
1500 mcg RAE(5000 IU)
167%
Vitamin C
(as Calcium Ascorbate & Ascorbiac Acid)
90 mg
100%
Vitamin D (as Cholecalciferol)(800 IU)
20 mcg
100%
Vitamin E
(as dl-Alpha Tocopheryl Acetate)(30 IU)
13.5 mg
90%
Vitamin k (as Phytonadione)
80 mcg
67%
Thiamine (Vitamin B1)(as thiamine HCL)
1.5 mg
125%
Riboflavin (as Vitamin B2)
1.7 mg
131%
Niacin (as niacin and niacinamide)
20 mg
125%
Vitamin B6 (as Pyridoxine Hydrocholoride)
2 mg
118%
Folate
668 mcg DEF[400 mcg folic acid]
167%
Vitamin B12 (as Methylcobalamin)
6 mcg
250%
Biotin
300 mg
1000%
Pantothenic acid
(as d-calcium pantothenate)
10 mg
200%
Calcium (as Calcium carbonate, calcium HVP Chelate
&calcium ascorbate)
500 mg
38%
Iodine (as potassium iodide)
150 mcg
100%
Zinc (as zinc HVP chelate)
15 mg
136%
Copper (as copper amino acid chelate)
2 mg
222%
Manganese
(as manganese amino acid chelate)
2 mg
87%
Chromium (as chromium polynicotinate)
120 mcg
343%
Molybdenum
(as Molybdenum amino acid chelate)
75 mcg
167%
1:FEMESSENCE: Femma Essential Complex
Inositol
25 mg
†
Choline (as choline bitartrate)
24 mg
†
2:AGENTACT: Femma Anti-Aging Blend
Green tea leaf extract (standardized to 98% polyphenols, 75% catechins & 45% EGCG
)
50 mg
†
Grape seed extract (standardized to 95% proanthocyanidins)
25 mg
†
Pomegranate extract (Punica granatum, fruit)
22 mg
†
Red Wine extract (vitis vinifera, fruit)
15 mg
†
Citrus bioflavonoids
12 mg
†
3:COGNISENSE: Femma Active Mind Suppoet
Panax ginseng extract
45 mg
†
L-Theanine
30 mcg
†
Ginkgo biloba extract (standardized to 24% flavone glycosides & 6% terpene lactones)
25 mg
†
4: METAFEMME: Femma Metabolism Support
Alpha lipoic acid
20 mg
†
5:IMMUBOOST: Femma Immune Support
ginseng extract (Eleutherococcus senticosus)
(standardized to 0.8 % eleutherosides)
100 mg
†
Echinacea powder (Echinacea purpurea, root)
50 mg
†
Olive powder (Olea europaea leaf)
25 mcg
†
6: LIBRAFLEXT: Femma Joint Support
Methylsulfonylmethane(MSM)
150 mg
†
Glucosamine HCI (shellfish)
75 mg
†
Chondroitin sulfate (bovine)
75 mcg
†
† Daily Value not established.
INGREDIENTS: Microcrystalline Cellulose, Croscarmellose Sodium, Vegetable Stearic Acid, Vegetable Magnesium Stearate, Silicon Dioxide, White Film Coating (Polyvinyl Alcohol, Titanium Dioxide, Polyethylene Glycol, Talc.).
How do I take VITAFORM?
As a dietary supplement, take 2 tablets daily after breakfast (first meal of the day). Stay well hydrated. Do not exceed 2 tablets within 24 hours.
How does VITAFORM support Mental Focus?
Ginkgo Biloba, Ginseng and L-Theanine are combined in this true mental focus and support blend. L-Theanine has been evaluated for improving mood and concentration, and decreasing anxiety and stress.
How does VITAFORM support Bone and Joint Health?
VITAFORM contains 200% of your recommended daily intake of Vitamin D3 and 100% Vitamin K1 an essential vitamin in bone health.
Does VITAFORM contain a Mineral and Electrolyte Matrix?
Micronutrients and electrolytes are important to everyday health and play a huge part in energy levels, proper digestion, and immune function, among others. VITAFORM delivers 100% of your recommended daily value in 5 crucial nutrients for optimal health and wellness.